Most of the packages we ship will be sent via a hybrid service between major parcel carriers and the United States Postal Service (USPS). The parcel carriers will take the package to the closest USPS sorting center to you, and your local Post Office will make the final delivery. Signatures are not required for delivery. Below is a map of the estimated delivery times for packages shipped with the hybrid service from our Indianapolis, Indiana warehouse. Delivery times can vary based on your proximity to major population centers. In most cases, in stock items will ship within 24 hours. Items that are not in stock may have longer lead times, which should be noted on the individual item. Orders placed on Fridays after 2PM Eastern Time will be packaged and ready for for pick up by the carriers over the weekend, but the carriers will not pick up the packages until Monday.
If you choose the $9.99 Expedited Ground shipping option in the cart, then the order will ship FedEx Ground
Please Note that estimated delivery times are pre-COVID19. Shipping volume for all package carriers remains very high and delivery times could be delayed by 2-3 days as posted on the maps.
Estimated delivery times for Economy shipping (Free and $4.99) in business days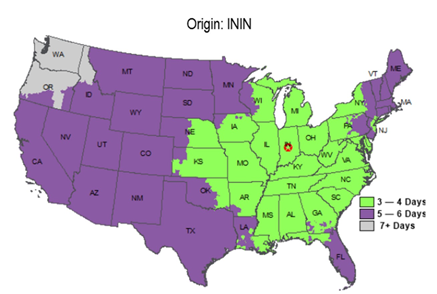 Estimated delivery times for Expedited FedEx Ground Service ($9.99) in business days