Our new MERV 13 Nano-Fiber filter media uses the newest ground breaking technology in air filtration. Nano-Fibers provide the high specific surface area and a small, interconnected pore structure which allows a very low basis weight coating to achieve high filtration efficiencies while maintaining a low pressure drop.
Nano-Fiber material is much different than older types of MERV 13 material. Traditional filter media uses spunbound polypropylene fibers. High voltage electricity is used to split filter media fibers into hundreds of tiny Nano-Fibers. To compare, 3.5 grams of traditional MERV 13 filter media would stretch 14 miles. Nano-Fibers are so fine that 3.5 grams of media would stretch for 35,000 miles! In a filter, this creates much more fiber surface with smaller pore structure to trap and hold more tiny lung irritating particles.
To get a true appreciation of this filter material it needs to shown on a microscopic level. . A human hair is roughly the size of a traditional MERV 13 filter fiber. You can see below how much smaller nano-fibers are and how many more there are for the same space.
Human hair on the Nano-Fiber web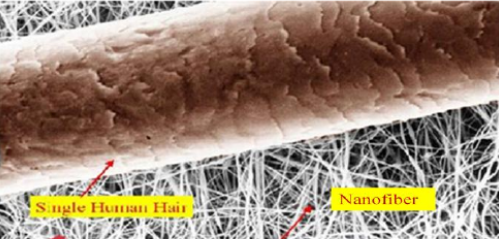 Pollen spore on the Nano-Fiber web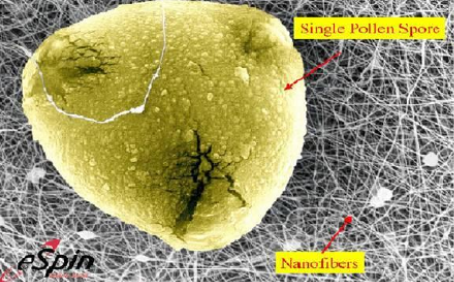 You may notice that our MERV 13 filters look different than traditional MERV 13 filter media. Even though the filter media is thinner than traditional media, it has the same dust holding capacity and higher air flow than traditional media. Proudly made in Indiana, our MERV 13 filters meet LEED Green building and Green Home standards as well as California Title 24 standards.
To view the spec sheet and test results of our MERV 13 filters please click here.